Advertising, "fixed" or "interactive"
On www.outvakantiehuizen.nl, you have several ways to advertise with fixed costs. There a two standard options. The first option is to link to your own website, where you have your prices and availability. So in this case you don't need to use the reservation system of Out! at all!. If you want a plannings module / booking engine with your advert? Please click Options WITH booking engine
Fixed price advert on OutVakantiehuizen.nl
You can place an ad with a text or picture on OutVakantiehuizen.nl/
The ad goes public in the category 'In the spotlight'
The cost applicable are listed in this
rate sheet
.
How to get started: Please send us an email (info@outvakantiehuizen.nl) with 3 lines of text (90 characters, including spaces.), one picture and the URL of the destination web address. Please tell us on which page of our website you want to advertise and how many times. We will send you an invoice and after receiving payment, the ad will be put online.
Please respect copyright of the pictures used. Eventual rights issues from the author will be transmitted to the advertiser and are the responsibility of the advertiser. Out! will have the right to refuse images, text, etc with a negative framing or offensive nature, etc.
Example of a fixed ad (Homepage 'on offer'):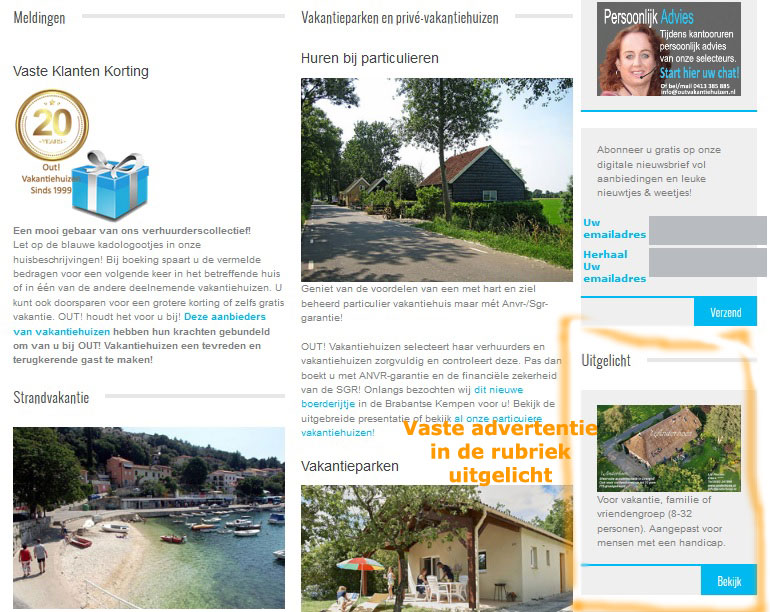 B. Interactive ad
In this option, you decide to take out an ad in the 'search results' made by customers of www.outvakantiehuizen.nl. The search concerns, capacity, country, region, etc. See exampel below.
Instead of showing the occupancy and prices, the client is directed to the website of your choice. Compared to the fixed ads, this will give you fewer redirections, but the redirections will be of a higher quality!
Part of this ad is a proper description of the holiday homes (just like the other holiday homes). We would like to offer you help in creating a nice description in Dutch. The costs can be found on our
Rate Sheet
. if you are interested in this special publicity advertisement? Please contact us at: info@outvakantiehuizen.nl ou +31 (0) 413-385880.
Example of 'interactive ad':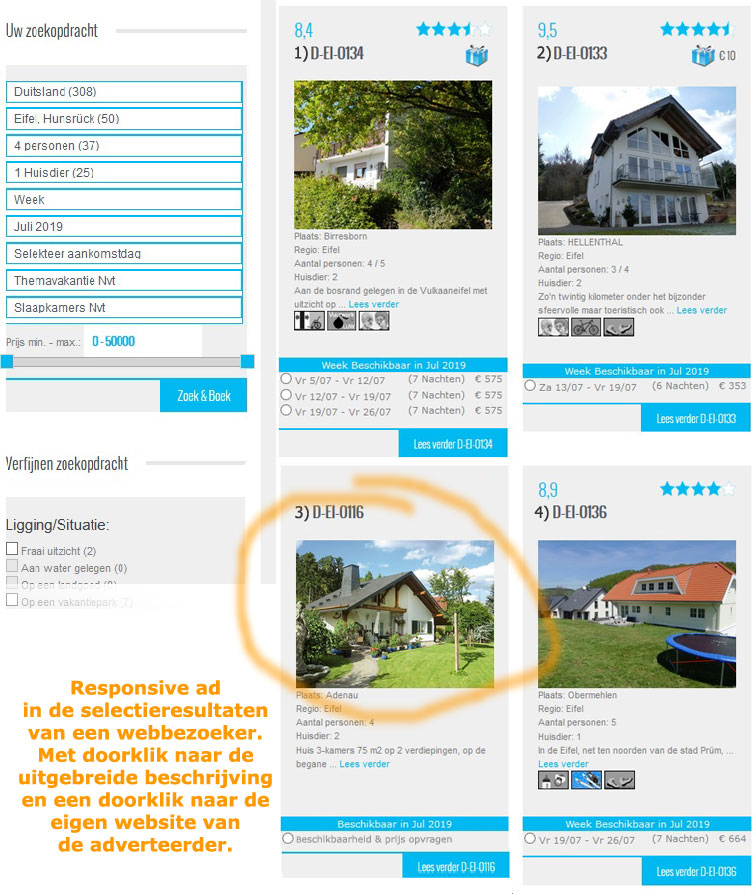 More information
Click here for
more information< /a> regarding advertising possibilities with OUT!